The well-known soft paste cheese of the local tradition with DOP mark, soft and with a delicate milk flavor, without added additives.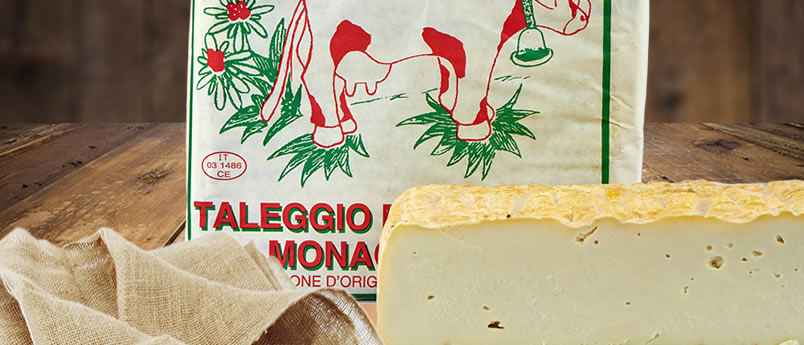 Fresh Monaci DOP Taleggio
One of the latest products among the MONACI range, the Taleggio has been introduced in order to relaunch the Imagna Valley given the activity carried out by some local farmers in the past. Today Casera Monaci combines its know-how with the experience gained over the years to get a high-quality niche product.
Taleggio is a soft paste cheese obtained exclusively from cow's milk, has a pinkish crust, soft and thin, a soft paste that leaves a delicate taste to the palate. The particular scent that characterizes this product is increasingly accentuated with an aging that cannot last less than 35 days. The mark of membership to the Consorzio Tutela del Taleggio (Taleggio Safeguard Consortium) guarantees its production and local typicality.
Taleggio is an energetic food, rich in proteins, mineral salts and vitamin A and B2. The composition of fats contained in it is balanced. It favors the absorption of calcium and the fixation of salts on the bones. It has a good digestibility, that increases with aging, and is a natural food: no additives are used for its production and aging.